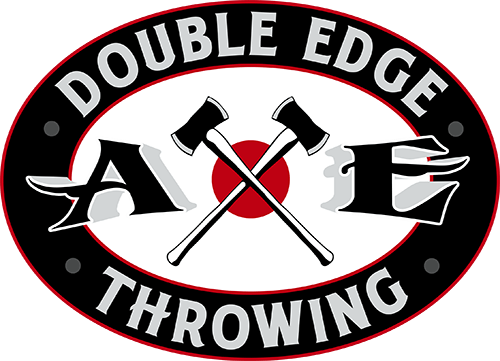 Mobile Axe Throwing Is The Best New Attraction For Your Event, Festival, Or Party
We can bring the thrill of axe throwing to you with our brand new, custom mobile setup. Any time, any place, just let us know what you are trying to do and we will work hard to provide you and your guest the best axe throwing experience.
A destination wedding with axe throwing? Outdoor retreat? Corporate party? Fundraiser? Conference?
We've got you covered!
Mobile axe throwing is facilitated by a Double Edge Axe Coach to not only ensure safe throwing but to create excitement. For small events, we can schedule tournaments, play competitive games or integrate axe throwing into your event's theme. For large events, we'll provide an attraction guest will be talking about for weeks. With a 2 target setup, we can have close to 400 people throw each hour. There are many different ways to structure a mobile axe throwing event, so please give us a call for more information.
Frequently Asked Questions
HOW CAN I PAY?
To reserve the Mobile Unit, we require an upfront deposit.
The cost is $400 for the first 2 hours, then $125.00 for each hour after that. If you are out of state or further than ½ hour from us, there may be a travel cost.
CAN WE BOOK A CORPORATE TEAM BUILDING EVENT?
Yes! Please email us at batesracing5@yahoo.com or call us at 484-639-2399 if you are interested in booking a corporate team building event!
CAN PEOPLE COME WATCH?
Non-throwers are welcome to join in the fun.
WHAT SHOULD I WEAR?
Closed toe shoes and whatever is comfy! We suggest layers!
DO YOU OFFER GIFT CARDS?
For sure! Please visit our booking page for available gift cards!
CAN I BRING MY OWN HATCHET?
Sorry! you cannot bring your own hatchet. Our insurance requires all of the hatchets be supplied by us.
IS THERE AN AGE LIMIT?
Yes, all guests must be 18 years old or older with a valid ID, whether they are throwing or not.
Safety
Ages 12 and older only! Always stay at least 5' behind the throwers
What To Wear
You can pretty much wear what you want, with a few exceptions….you must wear closed toed shoes. Axe throwing and sandals don't mix well. The axes are not that heavy, but we wouldn't want you to accidentally drop the axe on your toe.
You will also want to wear a comfortable shirt. Remember, you'll be throwing axes and so you want to be able to fully lift your arms in the air.
Axes – Each and every axe is inspected prior to each party to ensure it is in good condition and free of defects. Throwers are taught to grip the axe by the handle (not the blade!). Axe masters ensure the blades of the axes are sharp enough to hit and stick in the target… but don't worry, we make sure they are not razor blade sharp. No broken or defective axes are permitted for play. All axes used are in accordance with World Axe Throwing League standards.
Lanes – Fence barriers run along the sides and the top of the trailer. Only the 2 throwers and their axes allowed in inside the trailer at one time. Spectators hang behind the throwers in the viewing area which allows for a 6ft radius around throwers. For safety reasons, participants are instructed to throw and retrieve their axes in sync.
Axe Master – Axe masters provide direction throughout the entire event from safety guidelines, throwing technique, and tournament style games.  To ensure the safety of each participant, the axe masters encourage throwers to count down from 3, signaling the throwers when to throw. Axe masters will monitor the overall safety of the event as well as provide individual coaching to ensure every participant is able to stick it!
WAIVER
Waivers are required for all players. Individual must be 18 years or older to sign a waiver.
Players under 18 must have a parent/legal guardian fill out a waiver for them.
Want to have axe throwing at your next event?
Contact us today by calling (484) 639-2399